Play an exceprt from Interzones, beginning
about two minutes into the piece.
Play an exceprt from Interzones,
beginning later in the piece.
These recordings are from a performance
by Bruce Hamilton, vibraphone.
---
Composer: Bruce Hamilton
Instrumentation: Vibraphone and Tape
Year Composed: 1996
Duration: 10 minutes, 45 seconds
Cost: Purchase: $35.00 for digital files; $45.00 packaged


Recordings: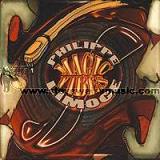 This piece can be heard on the CD Magic Vibes (performed by Philppe Limoge),
available from Steve Weiss Music,


and is also on the CD Music From SEAMUS Vol 7, available from CDeMusic.

---
Representative Performances:

Indiana State University Festival of Contemporary Music, Terre Haute, IN (October 1997)
SEAMUS National Conference, Kansas City, MO (April 1997)
SCI National Conference, Miami, FL (March 1997)
---
Program Notes:
Interzones for vibraphone soloist and tape was commissioned by percussionist Timothy Adams and completed in 1996 at the Indiana University Center for Electronic and Computer Music. Samples of guitar, saxophone, snare drum, and vibraphone were manipulated with Sound Hack and Sound Designer sample editing software; these sounds, along with a host of others from the Center s library, were sequenced using Digital Performer to create the tape part.
The many distinct sections of the piece can be described as variations, but I prefer to think of them as different scenes or musical zones. Though the piece is essentially abstract, many sounds and gestures within these zones evoke surreal images for me. Generally apparent is the jazz influence which is heard throughout and which seemed appropriate given the vibraphone's rich history in the jazz tradition.