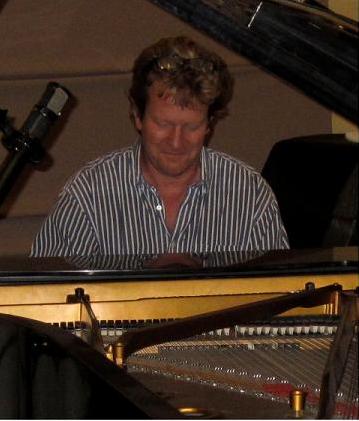 Biography
Website: www.aikmanmusic.com
With an extensive catalogue of strikingly original music for orchestra, chamber ensembles, voice, and electronics, James Aikmanís (b. 1959, Indianapolis) music has been consistently awarded and honored during the past two decades and has been heard at prestigious festivals and venues including Amsterdam's Gaudeamus International, Franceís Festivals International de Musique, London's Wigmore Hall, MTV, the Aspen Music Festival, the OJAI Festival, Tanglewood, The U.S. National Figure Skating Championships (closing ceremonies), the American Symphony Orchestra League American Repertoire Concerts 22and Carnegie Hall. He has heard his music performed by many extraordinary musicians, including Joshua Bell and Dawn Upshaw.
Notable honors and awards for his music include those from The American Music Center, The American Society of Composers, Authors and Publishers, ASCAP, The American Symphony Orchestra League, Indiana Universityís Cole Porter Fellowship, IU Deanís Awards for Excellence in Orchestral and Chamber Music Composition and The Carmichael Award for Classical Music; Groupe de Musique Experimentale de Bourges, France; The International Society for Contemporary Music (New York 2000); The University of Michigan; G. Schirmerís American Art Song Competition Winner, The United States Fulbright Fellowship Program, among others.
Upcoming premieres include a new work for Chorus and String Orchestra based upon poetry by Nobel Peace Prize Laureate and the 39th President of the United States, Jimmy Carter, entitled, Some Things I Love, to be premiered at the Newman Center for the Performing Arts in Denver, by the Lamont Symphony and Chorus, Lawrence Golan, Conducting. Additionally, a new work for Chorus and Orchestra has been commissioned by the noted conductor John Nelson who will conduct the Indianapolis Chamber Orchestra and Choir, giving its premiere during 2010. James Aikman is also excited about soon beginning a work for cellist Sharon Robinson, the cellist of the famed Kalichstein Laredo Robinson Trio.
---
CDs containing works by James Aikman: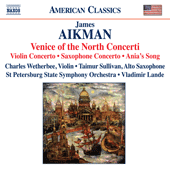 Venice of the North Concerti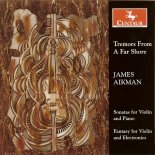 Tremors From a Far Shore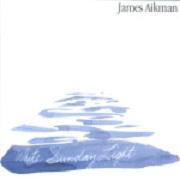 white sunday light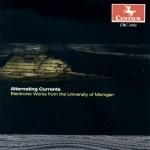 Alternating Currents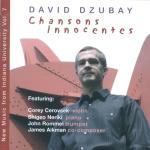 Chansons Innocentes
Click on the title of any work for detailed information.

---
Orchestral Music
Peacemakers

Rental: $2,500.00

2014-2016, 94 minutes

for chamber orchestra, sitar, soprano saxophone solo, piano solo, mezzo-soprano, children's choir, chorus, narrator

Saxophone Concerto

Rental: $500.00; Purchase: $1,000.00

2010, 22 minutes (three movements)

for alto saxophone and orchestra

Lines in Motion

Rental: $600.00; Purchase: $1,000.00

2009, 23 minutes

for violin soloist and chamber orchestra

audio available

Tempus Fugit

Rental: $200.00; Purchase: $400.00

2008, 7 minutes

for orchestra

audio available

Some Things I Love

Rental: $270.00; Purchase: $500.00

2007, 23 minutes

2 singers, chorus, and string orchestra on poems by the Thirty-Ninth President of the United States, Jimmy Carter, from his collection, Always A Reckoning

audio available

Wedding Songs for Voice and Orchestra

Rental: $200.00; Purchase: $250.00

1998, 17 minutes (four songs)

Singer (tenor or soprano), 2 flutes (1 dbl. alto flute), 2 clarinets in B-Flat (1 dbls. both bass clarinet and sop. saxophone), 2 bassoons, 2 horns, trumpet, 2 percussion (including timpani), piano, harp and strings (66442)

audio available

Intrada

Rental: $250.00; Purchase: $500.00

1993, 12 minutes

for orchestra

Tempus Fugit

Rental: $200.00; Purchase: $400.00

2001, 7 minutes

for band

audio available

---
Music for Large Mixed Ensembles
Wedding Songs for Voice and Orchestra

Rental: $200.00; Purchase: $250.00

1998, 17 minutes (four songs)

Singer (tenor or soprano), 2 flutes (1 dbl. alto flute), 2 clarinets in B-Flat (1 dbls. both bass clarinet and sop. saxophone), 2 bassoons, 2 horns, trumpet, 2 percussion (including timpani), piano, harp and strings

audio available

---
Music for Mixed Chamber Ensembles
Piano Quintet

Rental $85.00; Purchase: $100.00

1997, 25 minutes

violin, viola, cello, bass, piano

audio available

Glossolalia

Rental: $60.00; Purchase: $75.00

1991, 13 minutes

soprano saxophone, violin, piano, cello, percussion

Back to the top of the page
---
String Music
Aniaís Song

Rental: $80.00; Purchase: $120.00

2003, 7 minutes

string quartet

Second Sonata

Purchase: $35.00

1994, 11 minutes

violin and piano

audio available

Sonata

Purchase: $40.00

1986, 11 minutes

violin and piano

Elegy

Purchase: $20.00

1988, 7 minutes

cello

Piano Quintet

Rental $85.00; Purchase: $100.00

1997, 25 minutes

violin, viola, cello, bass, piano

audio available

Back to the top of the page
---
Music for Winds
Gig(ue)

Purchase: $20.00

1988, 7 minutes

saxophone quartet

Some Things I Love

Rental: $270.00; Purchase: $500.00

2007, 23 minutes

2 singers, chorus, and string orchestra on poems by the Thirty-Ninth President of the United States, Jimmy Carter, from his collection, Always A Reckoning

Wedding Songs for Voice and Orchestra

Rental: $200.00; Purchase: $250.00

1998, 17 minutes (four songs)

Singer (tenor or soprano), 2 flutes (1 dbl. alto flute), 2 clarinets in B-Flat (1 dbls. both bass clarinet and sop. saxophone), 2 bassoons, 2 horns, trumpet, 2 percussion (including timpani), piano, harp and strings

audio available

Back to the top of the page
---
Choral Music
Missa Jubilaea

Purchase: $30.00

2000, 17 minutes (five movements)

Chorus and Organ

---
Works with Tape and/or Electronics
Back to the top of the page