---
Composer: James Aikman
Instrumentation: Violin, Viola, Cello, Bass, Piano
Year Composed: 1997
Duration: 25 minutes
Cost:

Rental: $85.00

Purchase: $100.00

Recording: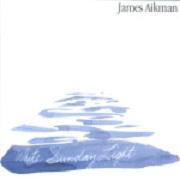 This piece can be heard on the CD white sunday light (music by James Aikman), available from amazon.com.
---
Program Notes:
To my absolute surprise, Schubert's famous Quintet in A major op. 114, D. 667 (1819) stands virtually alone in the vast history of music because of its instrumentation: violin, viola, cello, double bass, and piano. Why this seemingly natural grouping is in fact a very rare chamber music ensemble, I do not know. My Piano Quintet uses Schubert's instrumentation and is in four movements.
The first movement's multisectional yet organic form is united by a recurring, ascending gesture. Varied repetition - within sections and upon their recurrence - is also a key component of this piece. With the piano steadfastly propelling the piece forward, the strings - in various combinations - present the themes. The roles do merge such as in the virtuosic, unison moments and in the ever-so-brief, yet highly contrasting, chorale interludes.
The second movement, Adagio Semplice, is a rounded binary form based on a song I wrote for my wife Deanna which was performed at our wedding in 1985. An excerpt of the lyrics:
Whenever castles fall, descending
Unto the edge of time
When bells of liberty don't ring
Well then I'll find a way to say goodbye, to you
I'll wait 'til then to find a way to say goodbye

Whenever dreams begin their ending
And stars above don't shine
When no one wears a diamond ring
Well then I'll find a way to say goodbye to you
I'll wait 'til then to find a way to say goodbye.

When all the world has slowly fallen
Into the sea without a shore
When skies of fire stand over watching
I'll wait 'til then, but not before...

A short fugue appears as the third movement which is marked with churning rhythmic precision. Instruments function independently. The subject begins in the viola, is passed to the violin, then to the piano, overlapping statements and ascending in range until the low entrance of the cello and bass. The range diagram gradually ascends again to the uppermost register before dropping down and climbing to its conclusion.
The hymn-like introduction to the fourth movement erases the ardent counterpoint of the third. Here, the parts combine and sound harmonically as one. After the introduction, the piano introduces a bass line later echoed by the strings. The piece builds momentum as the sonic tour visits increasingly impassioned musics before landing safely at a lyric, piano variation of the introduction. This is not the end, however, as references to each of the prior movements are found in the coda which closes the piece.
This piece is dedicated to my family and especially to my wife, Deanna for the countless contributions made to my life.