---
Composer: James Aikman
Instrumentation: Violin and Piano
Year Composed: 1994
Duration: 11 minutes (3 Movements)
Cost: Purchase: $45.00


Movements:
I. Habanera
II. Homage
III. The Presence of the Past

Recording: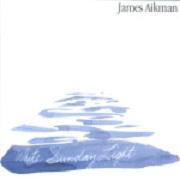 This piece can be heard on the CD white sunday light (music by James Aikman), available from amazon.com.
---
Program Notes:
Commissioned by Cathedral Arts especially for Hidetaro and Zeyda Ruga Suzuki, James Aikman's Second Sonata for Violin and Piano was written in Amsterdam during his U.S. Fulbright Fellowship. The following insights are courtesy of Mr. Aikman:
"In 1994, before leaving for Holland, I called my friend Thomas Beczkiewicz, Executive Director of Cathedral Arts who oversees the International Violin Competition of Indianapolis and the Chamber Music Series of the Indianapolis Symphony Orchestra, to tell him the news. To my great surprise, Tom already knew that I would be spending the year in Europe. He then told me his news, that Cathedral Arts and Suzuki and Friends would be celebrating Anniversary Seasons in 1995. I congratulated him. Following an extended pause... Tom said, 'Now James, you may have been awarded a Fulbright but you don't seem to be able to put two and two together. In order to keep you off those famous streets in Amsterdam, Cathedral Arts would like to commission you to write a new Violin and Piano work for the Suzukis in celebration of our anniversary seasons!'
"Upon arriving in Amsterdam I called Louis Andriessen and he invited my family and me over for a visit. In his apartment on the Keizersgracht, Louis said, 'James, you have achieved distinguished academic degrees and a professional technique of composition. While you are in Amsterdam, do one important thing for me that you will carry with you the rest of your life. Develop your own distinct musical voice.'
"I believe he knew exactly the fate that faces all young composers. That is, that they can not help but be enormously influenced by the music that they like. (They know what they like and they like what they know.) Thus, when they write, they emulate other styles. But there comes a point when real composers acknowledge the inevitable factor of influence and confidently step beyond it to merge the great traditions of the past with present individual musical statements.
"My Second Sonata for Violin and Piano is in three movements. The first - Habanera, a rhythmic dance of Cuban origin in moderate tempo - features the piano. A piano solo introduces a theme which is heard in various ways throughout the entire work. In Habanera, the theme is heard mainly as a melodic line. The violin enters at about one-third of the way through the movement with an augmentation of the same theme which continues in the piano. Beyond this point, virtuosic requirements slowly yet constantly increase until the climax where the violin trill triggers a canon between the instruments. The activity level gradually subsides and Habanera ends as it began.
"The second movement - Homage, a theme and variations - features the violin. A lyric violin theme opens the movement. The piano plays a supportive role, using chords derived from the theme of Habanera. The steady pulse and the broad increase in dynamics creates an almost inevitable quality until - after the point of highest intensity - a remembrance of the opening returns. The piece never really ends. It only ascends to a higher range.
"The third movement - The Presence of the Past - is a quick-paced, virtuosic toccata featuring both musician's equally. Memories from both previous movements appear amidst the high-energy, rocketship character of this movement."