Play Catching Updrafts, as performed by the SOLI Chamber Ensemble
(Ertan Torgul, violin; Stephanie Key, clarinet;
David Mollenauer, cello; Carolyn True, piano).
---
Composer: David Heuser
Instrumentation: Bb clarinet, violin, cello, piano
Year Composed: 2000
Duration:13 minutes
Pages (score): 31
Cost: Purchase: $30.00


Recording:
This piece can be found on the CD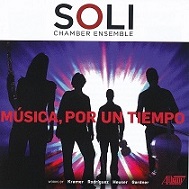 Música, Por Un Tiempo, performed by the SOLI Chamber Ensemble, available from Albany Records and Amazon.
Representative Performances:

Towson State University New Music Ensemble, Towson, Maryland (October 2006)
AURA, the Moorse School of Music Contemporary Ensemble, University of Houston, Houston, Texas (January 2004)
Pittsburgh New Music Ensemble, Pittsburgh, Pennsylvania (July 2003)
Soli Chamber Ensemble, San Antonio, Texas (September 2000 and October 2007)
---
Reviews:

From a performance by the Pittsburgh New Music Ensemble (July 19, 2003), reviewed by Andrew Druckenbrod of the Pittsburgh Post-Gazette:
| | |
| --- | --- |
| | "That was followed by the more substantive Catching Updrafts for violin, cello, clarinet and piano by David Heuser. This work of mood swings and unsettling glissandos unveiled poignant moments, as when violinist Ines Voglar and clarinetist Kevin Schempf shared a hauntingly gorgeous melody near the end." |
The same performance reviewed by Mark Kanny of the Pittsburgh Tribune-Review:
| | |
| --- | --- |
| | "...a powerful and well-varied piece..." |
Premiere performance by the Soli Chamber Ensemble reviewed in the San Antonio Express News by Mike Greenburg:
"The centerpiece [of the concert] was David Heuser's Catching Updrafts, composed over the summer on a research stipend from the University of Texas at San Antonio, where Heuser teaches.

This coloristic piece, scored for Soli's core complement of violin, clarinet, cello and piano, draws its name and its ideas from the serene gliding and dramatic descents of hawks and eagles.

There was much to like in this music, especially in the violent, craggy music of the descents and the lovely, serpentine rising passages."
---
Program Notes:
Hawks, eagles and other raptors keep aloft by riding rising columns of air called thermals or by using updrafts of air caused when winds strike, and rise over, objects such as mountains, which deflect the wind upwards. Migrating raptors use thermals and updrafts along mountain ridges to gain altitude, slowly circling upwards. Then, with some innate knowledge of the right time, they leave the rising air stream and coast downwards over the ridge, expending as little energy as possible, until they reach the next thermal or updraft.
I find the image conjured up by this kind of flight to be a rich metaphor for the human experience. I imagined a bird at the pinnacle of its "static soar," expending no energy to stay aloft. If we endow the creature with human emotions, we can imagine the conflict between wanting the hold on to that moment for as long as possible and knowing that we must go forward if we want to survive, even though there is no certainty that there will be another updraft to catch.
This, then is the metaphor from which Catching Updrafts came out of. From one point of view, our lives are a series of high points, when we have caught updrafts, and yet we must leave each one behind eventually (or we will stagnate and "die"), coasting downwards and hoping to catch another one in the future, knowing that there may not be another one waiting down the road, aware that this may be as good as it ever gets. In some ways, leaving those special moments is a matter of survival; in another way, it is a leap of faith.
In Catching Updrafts, this idea is played out in the musical form where, after an introduction, there is a struggling, rising melodic line which eventually reaches a static, high music. The middle of the work descends from this peaceful pinnacle into the lowest registers (what I consider the "hell" music). Eventually all of the elements of the piece come back -- the rising line, quick and direct this time; the static, high music; and recollections of the hell music -- until finally the piece ends peacefully, rising up into the stratosphere.
Catching Updrafts was written for the Soli Chamber Ensemble with the help of a Faculty Research Award from the University of Texas at San Antonio. It is dedicated to my wife, Cherie, for riding through bad times and updrafts alike with me.