Play Not here, but there, from a live performance by
Moorse School Percussion Ensemble at the University of Houston,
Dr. Blake M. Wilkens, director
---
Composer: David Heuser
Instrumentation: Percussion Ensemble (12 players) [see below]
Year Composed: 2006
Duration: 10 minutes
Pages (score): 65
Cost: Purchase: $40.00


Sample score pages are available for this piece.
Click here for a PDF file of the first eight pages of the score.
---
Recording: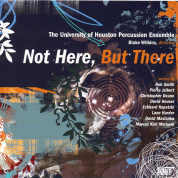 This piece can be heard on the CD Not here, but there (performed by the University of Houston Percussion Ensemble, Blake Wilkins, conductor), available from Albany Records and Amazon.
Premiere:Moorse School Percussion Ensemble at the University of Houston, Dr. Blake M. Wilkens, director at PASIC 2006, Austin, Texas (November 2006)

---
Percussion Needed
Percussion 1: marimba (extended to E2), 1 tomtom
Percussion 2: marimba (4.3 octave to low A), 1 tomtom
Percussion 3: marimba (4.3 octave to low A), 1 tomtom
Percussion 4: marimba (4.3 octave to low A), 1 tomtom
Percussion 5: bass marimba, 1 tomtom
Percussion 6: vibraphone
Percussion 7: vibraphone
Percussion 8: xylophone, glockenspiel, triangle, suspended cymbal, snare drum claves, cowbell
Percussion 9: crotales (2 octave set) [bass bow required], glockenspiel, snare drum, 2 timbales, guiro
Percussion 10: 2 tomtoms, 2 log drums (any 4 pitches), sandpaper blocks, 5 temple blocks, tambourine, flexitone, two almglocken (C4 and Eb4, or any C and Eb)
Percussion 11: tamtam [bass bow required], 2 tomtoms, bass drum, egg-shaped shaker, finger cymbals, cabasa, two almglocken (Bb3 and D4, or any Bb and D)
Percussion 12: 4 timpani (23", 25", 28", 32"), maracas, woodblock, slapstick, slide whistle
---
Program Notes:
Not here, but there was Commissioned by the Moorse School Percussion Ensemble at the University of Houston, Dr. Blake M. Wilkens, director