Play an excerpt from the first movement, Waltz Rounds, of Trio for
Clarinet in B-Flat, Cello and Piano.
Play an excerpt from the second movement, Refrains, of Trio for
Clarinet in B-Flat, Cello and Piano.
Play an excerpt from the third movement, Third Stream - Coda, of Trio for
Clarinet in B-Flat, Cello and Piano.
---
Composer: James Aikman
Instrumentation: Clarinet, Cello, and Piano
Year Composed: 1999
Duration: 18 minutes (3 movements)
Pages (score): 55
Cost:

Rental: $50.00

Purchase: $100.00


Movements:
I. Waltz Rounds
II. Refrains
III. Third Stream - Coda


Recording: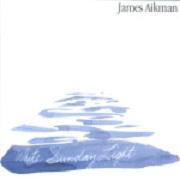 This piece can be heard on the CD white sunday light (music by James Aikman), available from amazon.com.
---
Program Notes:
Like the Piano Quintet, Aikman's Trio is a substantial chamber work in which vigorous, vital music finds its life-source in a heart-felt song-like utterance. Here, it is once again the second movement, a fantasia-like set of variations, that is the emotional core of the music, and, once again, the coda of the final movement confirms this. The first movement, Waltz Rounds, seems to assemble itsself from fragments: The initial thirty-bar clarinet solo sounds improvisatory, rhythmically free, searching out first its lowest register and only gradually daring to sing in its highest range, or essay any establishment of pulse or meter. With the entry of the cello, something magical happens. Not only do we realize that the two instruments are playing a canon at the distance of a single bar, but simply by trailing the clarinet in a regular fashion, the cello allows us to hear the underlying waltz of the clarinet's opening music. What had initially sounded irregular, searching, tentative, now comes forth as a steady, affirmative rolling dance. And not a note of the clarinet part has been changed! But we are not done: the piano enters with brash, harsh chords, reducing the other instruments to silence (The score instructs the pianist, "Boldly take over!"). The piano at first sounds at odds with the previous music, clanking and mechanical, grinding out a different tempo in each hand. But with the return of the clarinet and cello's canon, we hear that the piano, too, has recycled to its opening music: the three parts together are one boisterous continuity. Much more happens in this movement, not to mention the remaining movements, but in all three, the composer is able to effect startling changes of tone and texture by deceptively simple means.